hindu marriage certificate and marriage registration
hindu marriage registry is a prerequisite for hindu marriage certificate in Bangladesh. hindu marriage registration has not been made compulsory till now. but, as a conscious citizen, the marriage must be registered. Because hindu marriage certificate is not available without registry.
Marriage certificate is required at different times for different purposes. If you ever want to travel abroad as a family, marriage certificate is definitely not an option. It is mandatory especially when adding the name of spouse in the passport. Apart from passport, marriage certificate is required for various activities. Neither party can deny the validity of a registered marriage.
A husband cannot remarry without his wife's permission, otherwise the wife can take legal action against him
In case of death of husband or wife, the surviving spouse can claim the legal share from the deceased's property
Moreover, marriage certificate is required as proof of marriage in various places including house rent, hotel rent, travel. Many times, due to lack of marriage certificate, one has to face various problems.
how to get hindu marriage certificate in Bangladesh
Those who have married long ago but have not registered their marriage, how can they get the marriage certificate? You can contact us for hindu marriage certificate: whatsapp 01515-615786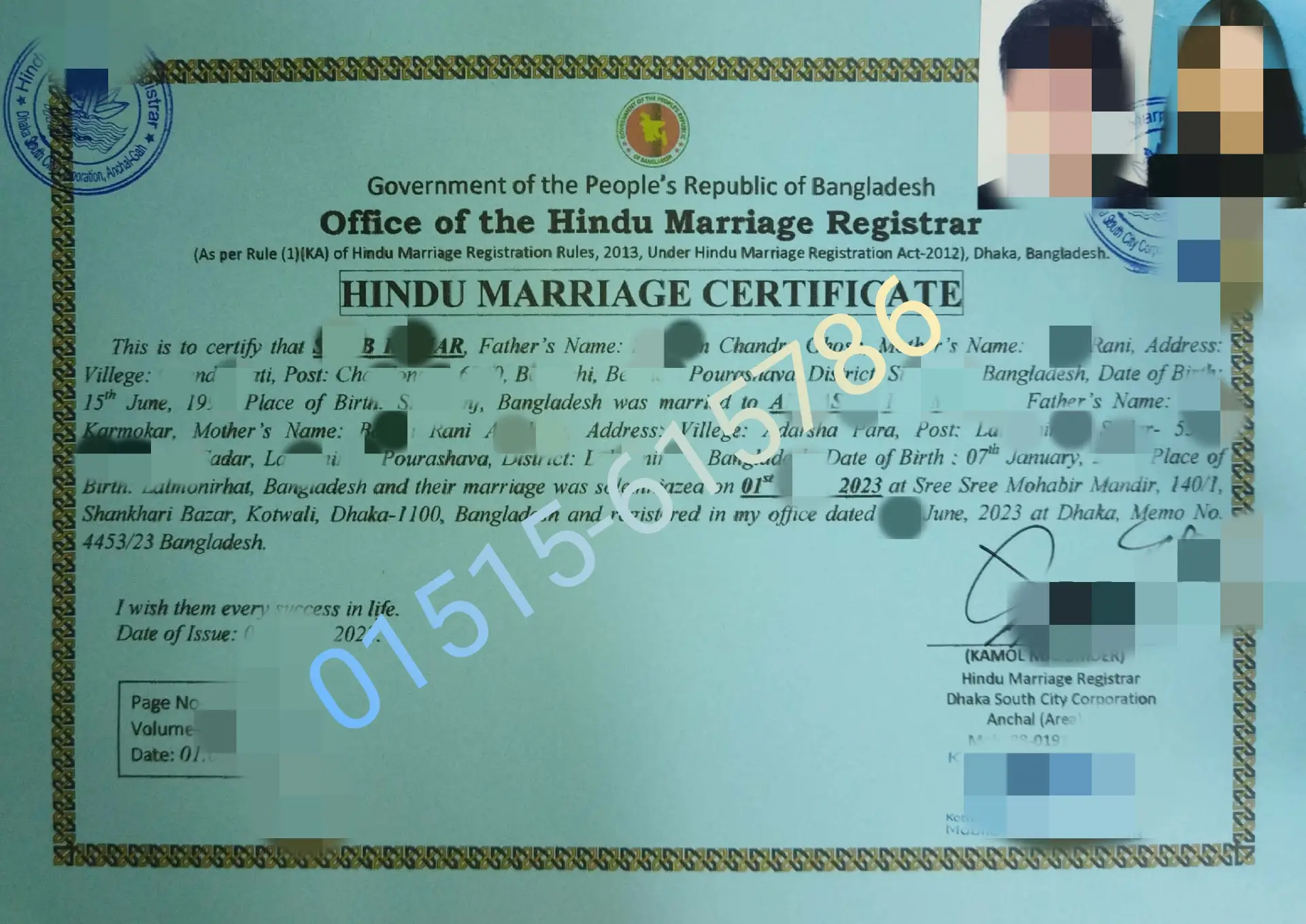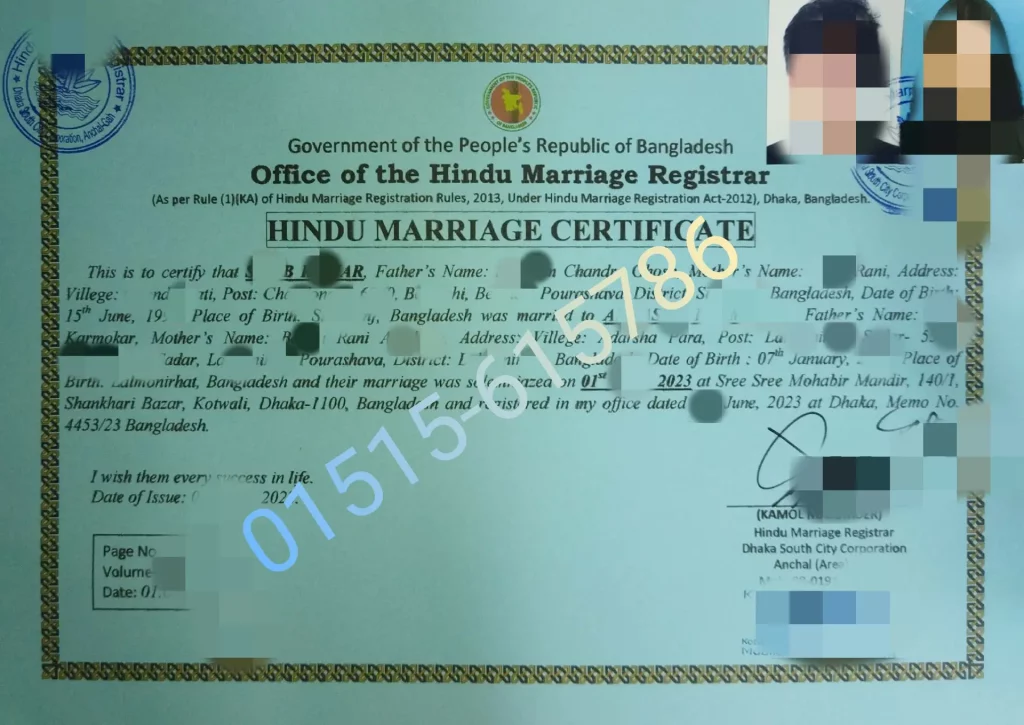 Many papule do not register Hindu marriages as the registry is not compulsory. And those who got married before 10 years did not have any opportunity to get marriage registry. Because, the law came into force in 2012 and the marriage registry started from 27 January 2013. But now hindu marriage certificate is a very important document in various fields. read in bangla marriage certificate
Registration can be done by providing certain documents and all the details of the marriage. And the marriage registry is mandatory for the certificate. A hindu registrar has to register by signing the registration volume book. Hindu Registrar is a Hindu kazi appointed by the Government. Marriage registration should be done with a hindu marriage registrar. In this case, there is no problem even if your marriage was 10-20 years ago.
So, it is a very easy matter to register the marriage and collect the required documents including the certificate. Due to lack of knowledge, many people suffer for marriage certificate.
If the marriage took place earlier, the following written information will be required to register and get the certificate
What kind of information need for hindu marriage certificate
Marriage /Wedding Venue:………., Ashirbad /Blessing Date:…………, Marriage/wedding date:…..
Groom's Name:……………., Groom's Father Name:………………, Groom's Mother Name:……………., Groom's Present Address:………………., Groom's Permanent Address:…………………, Groom's Date Of Birth & Place: ……..
Bride's Name:…………, Bride's Father Name :…………, Bride's Mother Name:…………, Bride's Present Address:………………….., Bride's Permanent Address:…………., Bride's Date Of Birth & Place:
Priest/Purohit Name:…….., Priest/Purohit Address:
Barbers/shill Name:…………, Barbers/shill Address:
Konnadan/Bestowal Name, Address, Relation:
Groom's Witness Name:……………..,Groom's Witness Address:
Bride's Witness Name:……….., Bride's Witness Address:
Groom's Guardian Name:……………, Groom's Guardian Address:
Bride's Guardian Name:………………, Bride's Guardian Address:
marriage registration in Bangladesh
hindu marriage registration Act 40 of 2012 is given below
Hindu Marriage Registration is necessary to protect the documentary evidence of Hindu marriages.
For the purpose of securing documentary evidence of hindu marriages, registration shall be done in the manner prescribed by the hindu Marriages.
But if a Hindu marriage is not registered under this Act, the validity of any marriage performed according to the Hindu Shastras shall not be impaired.
Hindu marriage registrar will register the marriage for the purpose of securing the documentary evidence after the marriage has been completed according to Hindu religion, Rules.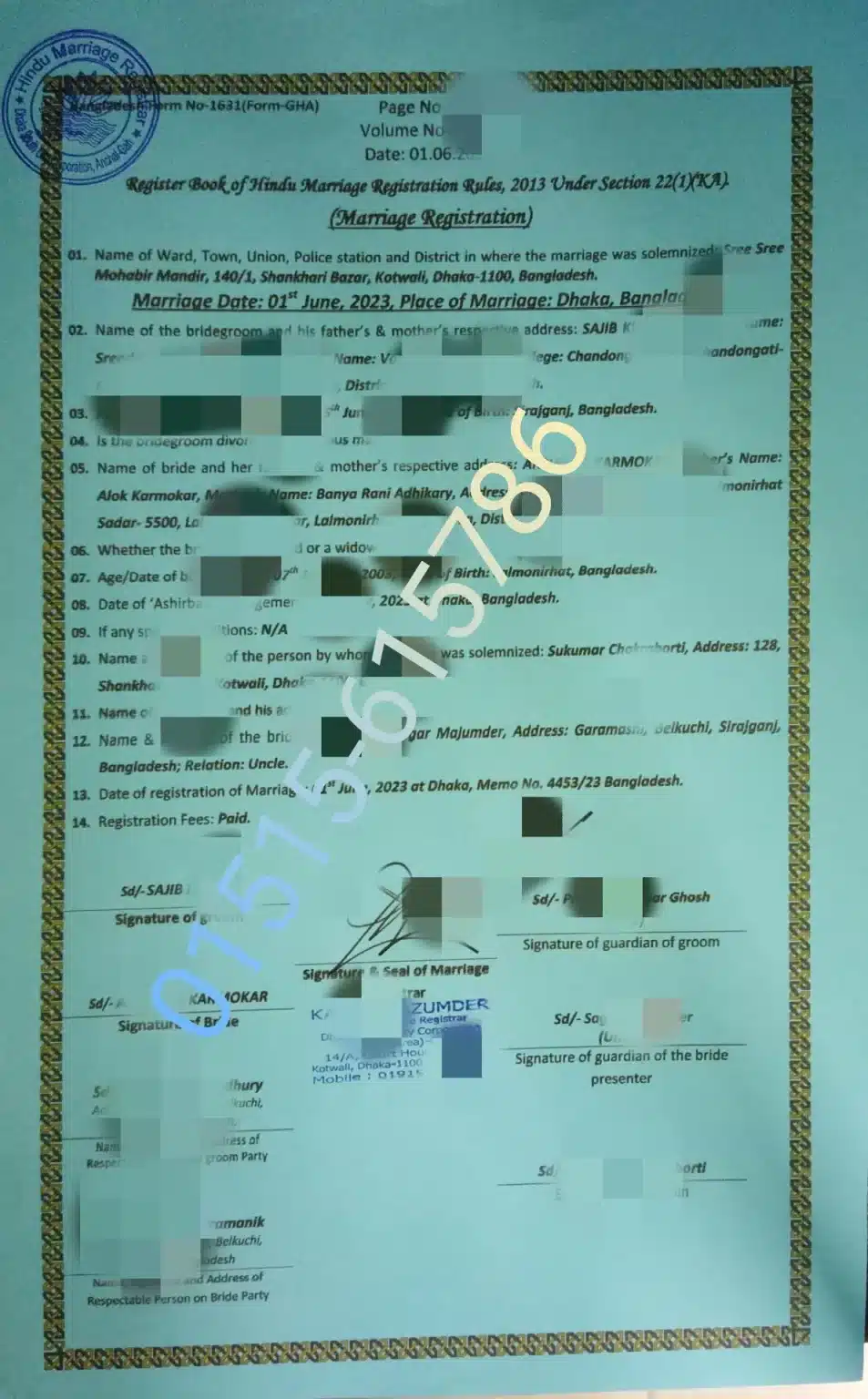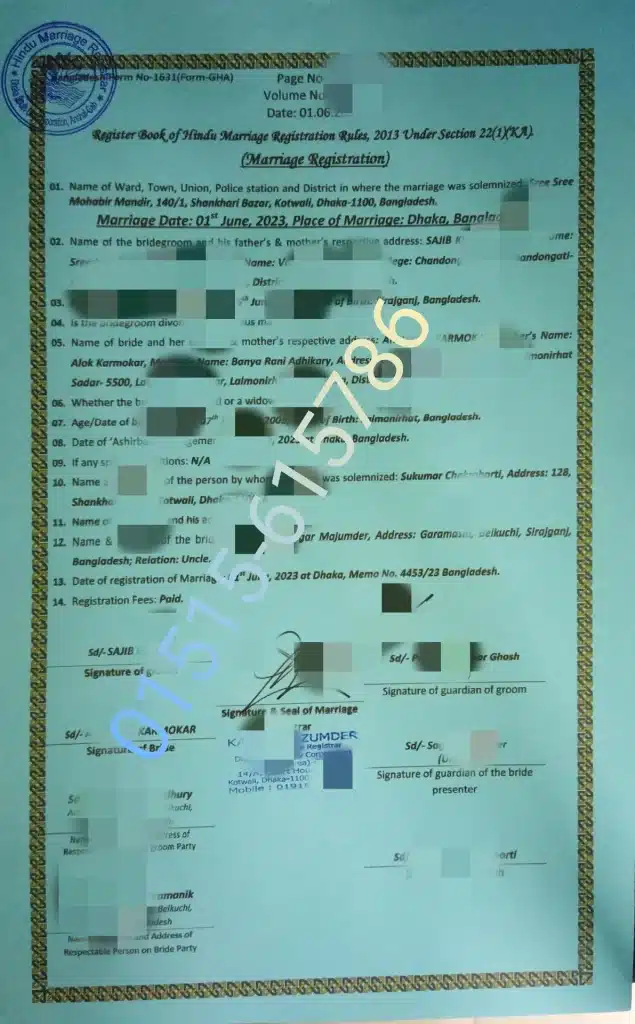 Also, those who got married before the coming into force of this Act can register their marriage under the Act.
No Hindu male below 21 (twenty-one) years of age or Hindu female below 18 (eighteen) years of age shall enter into marriage.
hindu marriage certificate in bangladesh
One victim of harassment for marriage certificate said in an interview.
I am Sudeep, (pseudonym) married in 2010, I have two sons. I live in Beijing for work. At one time, it was necessary to bring the son and wife to Beijing. marriage certificate and birth certificate of 2 children are required. The problem started, since the marriage was done in 2010, at that time there was no marriage registry or hindu registrar.
Anyway, I met a Bangladeshi person through imo, he advised me, "I am married, I have to take an oath by affidavit." I was happy to be able to affidavit so easily, but after a lot of fiddling with it I found out it wouldn't. marriage certificate will be required.
certificate must be required
I found a father who will give me a marriage certificate in one day. But have to pay a lot of money for this. I had a few days to do all the work, so I agreed.
The man appeared with the marriage certificate within an hour. Suddenly I remembered something, once in my education life I was making a computer training certificate for someone from Neelkhet, the guy did something like that.
Then I gave the man, one thousand taka and said I don't need the certificate, but the man started threatening me completely. At one point the man started threatening me with police. Anyway, I was saved from the situation through an acquaintance.
After that, I found this website through Google. I contacted the number given by them. They give a online form where I give information for marriage registry. The next day I went to their office and registered the marriage by signing the volume book. Finally got the desired marriage certificate, and completed my job successfully. Lastly, I am now in Beijing with my family. Please bless me.