If you read this article, there will be no more questions about Court marriage procedure in Bangladesh.
Court marriage is a term that does not exist in the law or in religion. It is almost impossible to say where the term "court marriage" came from Because there is no such thing as court marriage in the eyes of the law. There is no provision for court marriage, even religiously. So the question is, where does this common saying come from and what are the rules of court marriage?. To find the answer to this question, we have to look at the attitude of the society…
Imagine that Nibby and Nibba of the neighboring house have escaped. After two days, you known that they had a court marriage. If you don't know about court marriage in such a situation, then the first thing that will come to your mind is… O father! Marriage is a big deal if the court stands! Mr. George got married! This marriage is very strong! If the Nibbi or Nibba parents make trouble with this marriage, they will be jailed and fined etc. But the truth is, it is not a marriage according to Bangladeshi law.
What do we mean by court marriage?
Just listening to it, it seems like a court marriage, standing in front of George, the marriage was completed. The reality is that in Bangladesh, where a case takes 2-4 years to be adjudicated, the court does not have time to hold a special session for a marriage. In some special cases, the court can marry, but it is not a court marriage, it is a registered marriage.
What is conventional court marriage?
After reading so far, you will think that what these boys and girls usually do and say that they have court marriage?. Conventional court marriage is a contract. It is written where a boy and a girl are marrying each other voluntarily and intuitively without being influenced by anyone.
An affidavit/agreement, with a non-judicial stamp of Tk.300, should bear the signatures of both the groom and bride, attested by an advocate. Additionally, it requires the signature of a first-class magistrate or a notary public. It is not a marriage or marriage certificate, but a proof that they are doing the marriage voluntarily.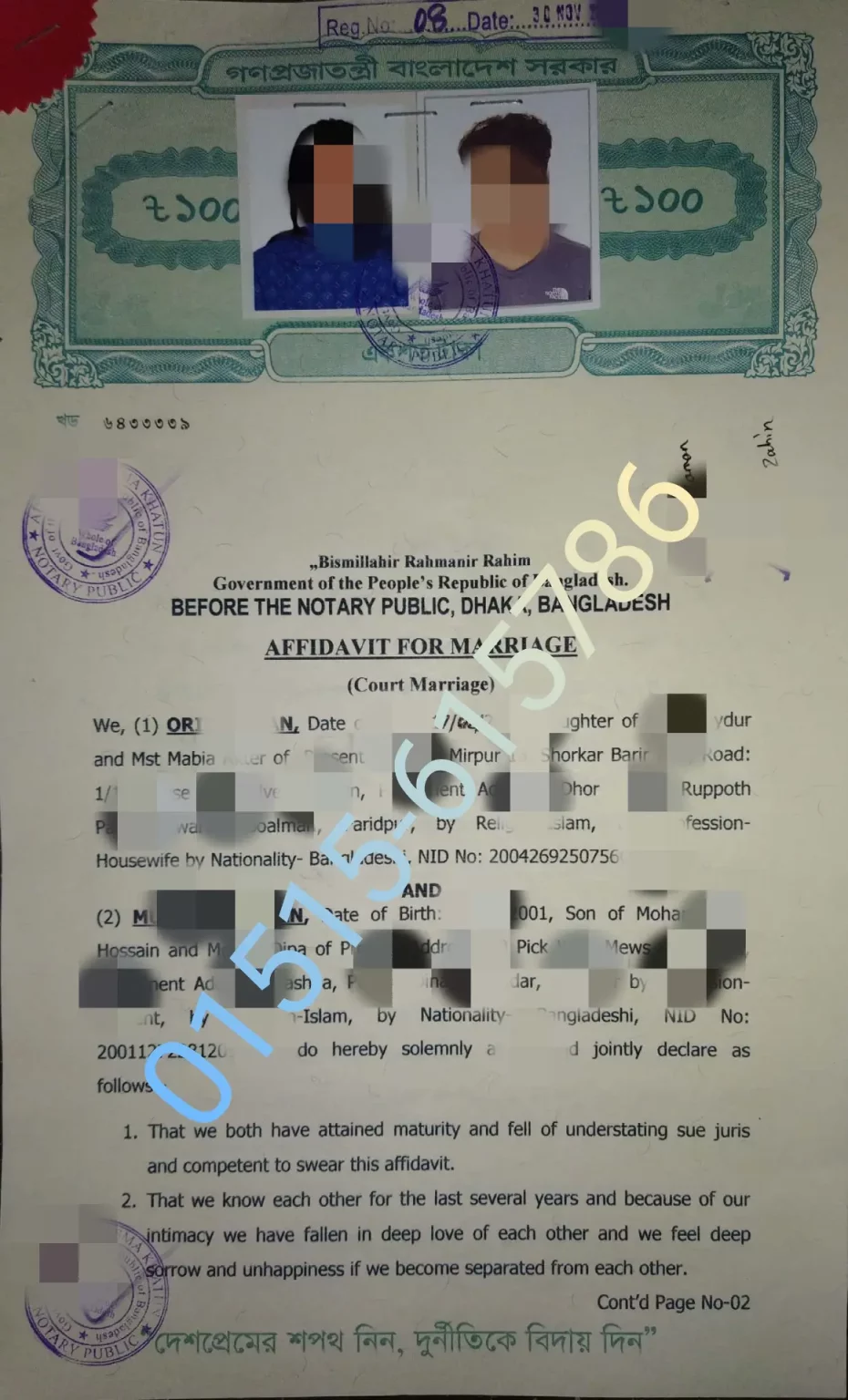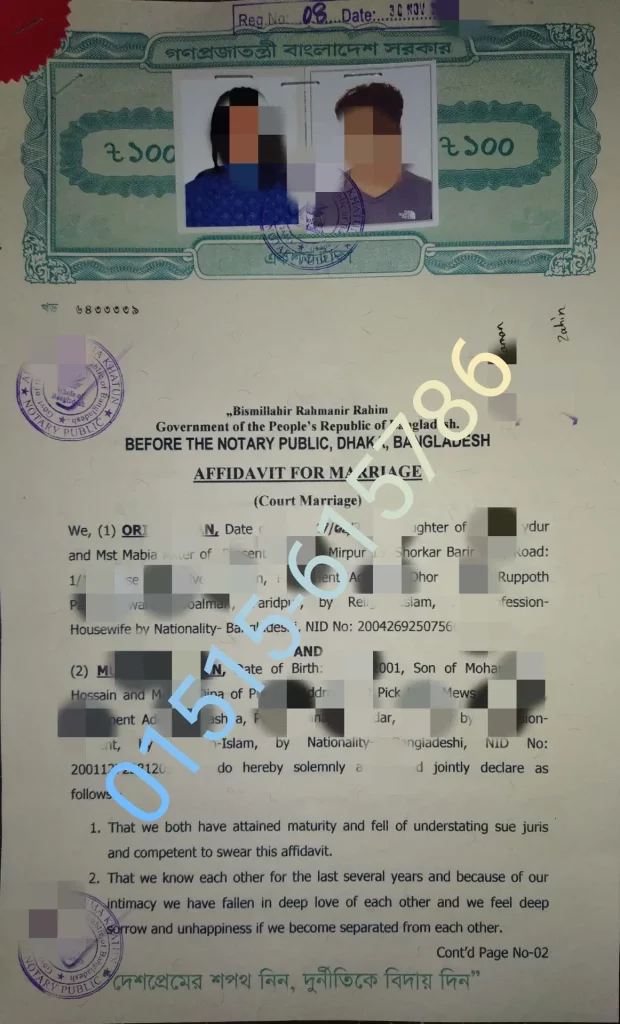 How can court marriages be legally acceptable at all times?
If both the boy and girl are of legal age and have registered the agreement under the laws of Bangladesh, their marriage will be legally valid. Even if false cases are filed by the parents, this registered agreement will provide additional support as it contains the signatures of both the boy and girl, as well as the notary public and lawyer. Registration serves as the main document of marriage, while without it, the agreement is considered solely as a contract.
Muslims have to register marriage as per 1974. (Mandatory, otherwise penalties apply)
Hindus have to register marriage as per 2012. (Not Compulsory, Marriage to be done by temple priest)
Christians have to register marriages as per 1872. (Mandatory, otherwise penalties apply)
Buddhists do not have their own registration law, but can register marriages under 1872.
If there are two people of two religions, according to 1872, marriage registration should be done. (Mandatory)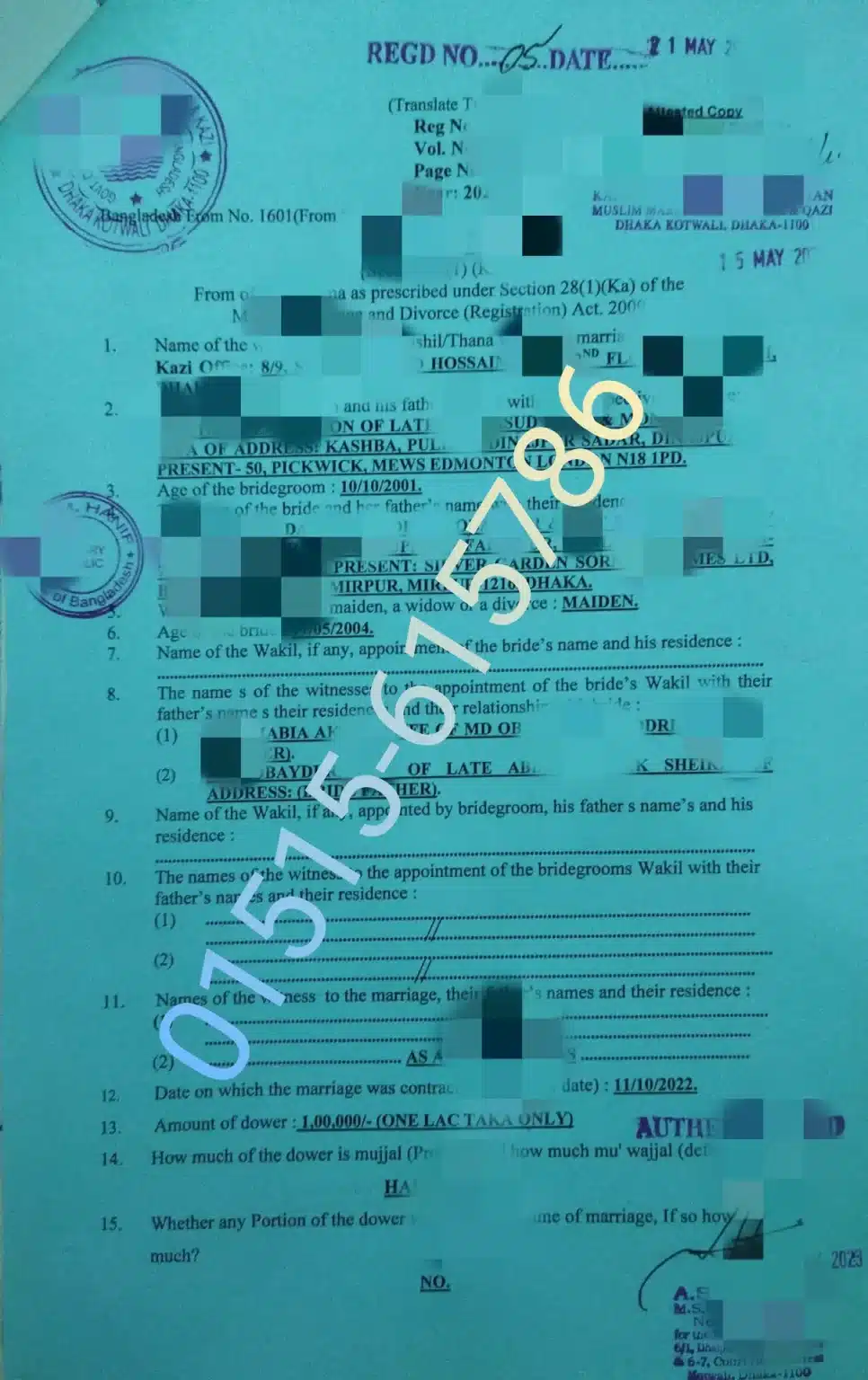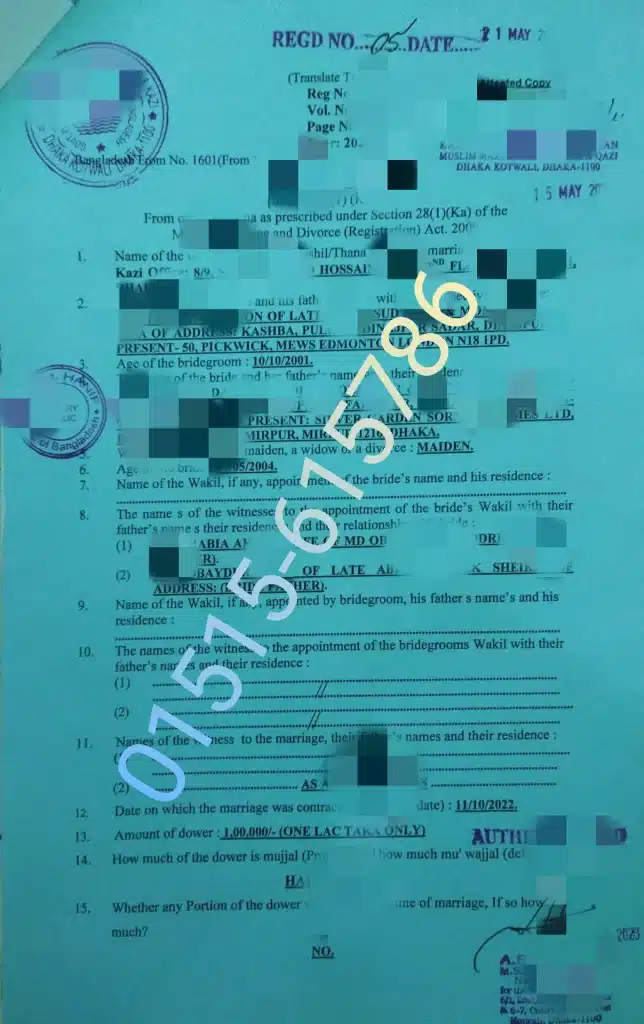 Advantage marriage registration
From the above discussion it is understood that marriage registration is mandatory, otherwise there are penalties.
The marriage certificate is proof of marriage, and it is considered valid if the marriage registration is completed. Without registration, this certificate cannot be obtained.
Society often requires registration to establish a child's legitimate identity.
A marriage certificate is necessary for various purposes like foreign travel, renting a house, booking hotels, etc.
A marriage certificate is required for couples traveling abroad on a spouse visa.
Muslims need a marriage certificate to perform Hajj.
Registration ensures that all marriage details are recorded in the government's database, providing undeniable proof.
Registration offers women, in particular, protection and safeguards their rights under the law, reducing the likelihood of being deceived.
The registered certificate serves as the primary defense against allegations of cheating from either the husband or the wife.
This document is essential for making legitimate claims, including a rightful share of the husband's property after his demise.
Is court marriage legal/permissible in Islam?
court marriage is not recognized by any religion, including in the laws of Bangladesh.
To determine if court marriage is valid in Islam, it is important to understand the conditions for a marriage to be consummated in an Islamic manner.
According to the Hanafi Madhhab, three conditions must be met for a valid Islamic marriage: the presence of two witnesses, the offer and acceptance (Ijab- Qabul), and the payment of a dowry (Denmohar). Other imams may also require the presence of a guardian.
In the process of court marriage, we follow three steps in accordance with Islamic rules: court marriage, registering the marriage, and obtaining acceptance through a Kazi (Islamic sharia). All three steps include the mention of the dowry amount and the presence of two witnesses.
For further assistance, please contact: 01515-615786.
How to do Hindu court marriage?
For Hindus also the same calculation is done in addition to court marriage must be done religiously. Mantra recitation, Mala Badal, Sat Pak, Shankha Sindoor etc. should be done by the priest along with the marriage registry and the marriage should be done in the temple. According to 2012 marriage registration should be done.
Where and how to do it, know more about Hindu marriage
Age of court marriage
Although there is no fixed age for marriage in Islam, Bangladesh law has a fixed age limit.
For marriage in all religions, the age of the boy should be 21 and the age of the girl should be 18. In special laws, with the permission of the parents or the court, even if the girl is a little younger, it can be done.
document required for court marriage
The following documents and requirements are necessary for court marriage:
a) Proof of age for both the bride and groom, which can be demonstrated through acceptable documents such as NID (National ID), birth certificate, passport, or any board exam certificate (one document is sufficient).
b) Three copies of passport-sized photographs of both the bride and groom (four copies for Hindu marriages).
c) Two adult witnesses are required for court marriage (four witnesses for Hindu marriages).
court marriage cost in bangladesh
Some people say 50 taka, some say 200 and some say 300 taka. But in reality nothing is certain. A stamp of Tk 300 is required from June 2022. It is certain but there is also a lot of cost. As signature of an advocate and a first class magistrate or notary public is required. So the main cost here is the fee, the fee depends largely on the experience, senior junior, of the advocate.
As the law does not call a court marriage a marriage, it has to be registered.
marriage registration fee in Bangladesh
Until 2022, the registration fee for marriage was Tk 1250 per lakh. However, starting from 2023, the cost of marriage registration has been raised to Tk 150 per lakh.
According to Rule 21 of the Rules, 2009 (Amendment 2022), the marriage registration fee is Tk. 1400 per lakh for amounts up to Tk. 5 lakh, and Tk. 100 per lakh for amounts exceeding Tk. 5 lakh.
One lakh Kabinnama, fee is (1400 *1) 1400 Taka.
Ttwo lakh Kabinnama, fee is (1400 *2) 2800 Taka.
Three lakh Kabinnama, fee is (1400 *3) 4200 Taka.
Four lakh Kabinnama, fee is (1400 *4) 5600 Taka.
Five lakh Kabinnama, fee is (1400 *5) 7000 Taka.
Six lakh Kabinnama, fee is (7000 + 100) 7100 Taka
Seven lakh Kabinnama, fee is (7100 + 100) 7200 Taka.
Eight lakh Kabinnama, fee is (7200 + 100) 7300 Taka.
Nine lakh Kabinnama, fee is (7300 + 100) 7400 Taka.
Ten lakh Kabinnama, fee is (7400 + 100) 7500 Taka.
Following this pattern, fee increases by 100 Taka for every additional lakh of Kabinnama.
advantages disadvantages and cautions of court marriage
Disadvantages
There are hardly any advantages of court marriage, all there are disadvantages. Such as marriage cannot be proved, chances of fraud are high, state law does not recognize this marriage, there is no way to avoid trouble if the parents of the boy and girl sue, and there are many other problems.
Advantages
Advantage is then, when the marriage is registered and court marriage is done as additional support. If the boy and girl are adults and bound by this contract with registration under the laws of Bangladesh, then the marriage is legal. Even if parents of boys and girls file false cases, this agreement serves as additional support. Because the stamp of this contract contains the signature of both the boy and girl voluntarily marrying, and also the signature of the notary public and the lawyer.
cautions
Boys and girls of rising age decide to get married without the knowledge of their parents. This decision is often not good because of emotion. Before marriage there is passion, everything is agreeable but the reality says otherwise. After marriage the passion usually decreases, then minor mistakes of the partner cannot be accepted, resulting in divorce.
Having some personal experience working on this…
After a few days of marriage, the phone calls "I want to divorce". Divorced within a week, because I could not satisfy the family.
The thing is, if you truly cared about your family, you wouldn't have married without their knowledge in the first place. If you made the decision to marry, why are you now considering divorce based solely on your parents' thoughts? Shouldn't you have thought about all this before getting married?
We want every love to be fulfilled with the kindness of parents. Try to convince your parents, you will see that they will accept it. You start your new life with the prayers of your parents.